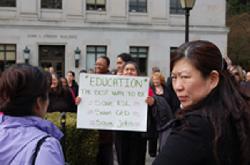 March 30, 2009
Contact:  
Sandra Schroeder, 206-715-1824 or sschroeder@aftwa.org 
Sylvia Watson, 206-261-3603 or swatson@aftwa.org
Senate's Budget Plan Shortchanges Students, Unemployed, and State's Future
"The proposed supplemental and 2009-11 operating budgets the Senate leaders unveiled today have dealt a devastating blow to education in our state," said Sandra Schroeder, union President of the American Federation of Teachers in Washington State.
Higher education is an economic stimulus, particularly at a time when our unemployment rate is the highest it's ever been and residents who have lost their jobs are seeking job training and higher education in order to get back into the workforce.
"Thousands of students will not be able to access higher education in our state but, if they do, the lowered quality of education they receive will have consequences for years to come," Schroeder said.
Quality will erode as students need to stay in school longer to get the classes they need, be less likely to earn a degree in their chosen field because academic support services are eroded, and will have larger class sizes as a result of as many as 3,000 college faculty losing their jobs.
According to the Senate's proposed budget, "up to 60 percent of the reductions are likely to impact direct instructional and student services, which comprise approximately 63 percent of the colleges' state and tuition-funded activities."
Under this budget proposal, students will see up to a five percent tuition increase in community and technical colleges and up to a seven percent increase in tuition in four-year institutions to offset some of the budget reductions.
"The governor and legislators from both parties do not have the political will to restructure our archaic tax system and stabilize it for the future, but they are willing to increase the tax called 'tuition' on students and workers who need retraining. And students will get less for more," Schroeder said.
"Revenue reform that prepares for the future would have been the courageous stand to take. Both parties share the shame of this budget. History proves we will never be able to turn back the clock and restore the cuts even when the economy improves," she said.
# # #
AFT Washington, AFL-CIO, represents academic employees in two- and four-year higher education institutions, K-12 classified school employees, Head Start teachers, and early childhood education members.