Graduate assistants may be both "students" and "employees," but they often have to fight to be recognized as workers who deserve fair pay, benefits and workers' compensation should they get hurt on the job. Advocates believe that fight could pay off soon: As it gathers momentum, their movement could well overturn old policies barring private college and university graduate workers from unionizing, and pave the way for guaranteed workers' rights in the future.
Among the movement's leaders is Cornell Graduate Students United, which affiliated with the AFT in October 2015. It's a logical affiliation: The AFT has organized numerous graduate worker unions at public colleges and universities, so extending those rights to private institutions makes sense.
At Cornell University, members note that they work long hours in the university's science labs and classrooms, but the university administration insists they are primarily students and therefore ineligible for the benefits they demand. These include: lab safety and adequate workers' compensation when accidents do occur, sixth-year and summer funding, affordable vision and dental plans, affordable child care, and a better system of due process for when grad workers are disciplined or let go from their assistantships by advisers.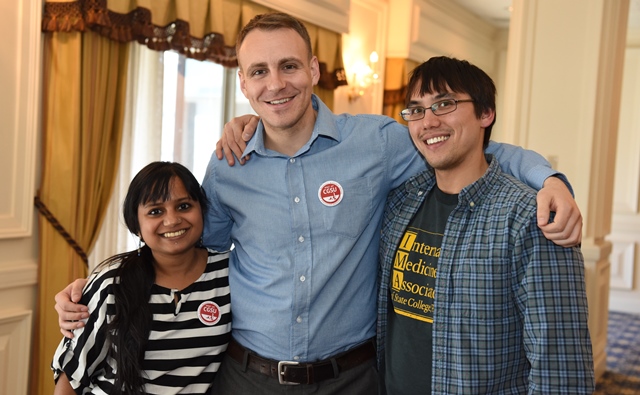 Shane Lancer, a research assistant at Cornell's School of Industrial and Labor Relations, was drawn to CGSU by conversations about voice and dignity, he says. But he was also moved by the story of Richard Pampuro, a Cornell research assistant who was injured in a chemical engineering lab when a broken beaker sliced into the tendons in his arm in 2013. "A lot of people work with dangerous material," says Lancer, noting that Cornell is a large research university. "We have preventive safety policies in place, but what happens after an incident is unclear." Also vague, he says, are policies regarding sick leave and vacation.
Job security is an issue as well, says Yagna Chowdhuri, a graduate assistant in Asian studies at Cornell. (She's pictured above with Lancer, center, and Andi Kao.) "I have friends who have had trouble with an adviser and been told their teaching assistant position could be taken away at any point," she says. "There was a building sense of anger." The union, says Chowdhuri, gives her and her colleagues a voice as well as a sense of community.
Graduate workers at other universities are waging similar campaigns. Inspired by New York University grad workers' success in 2013, members of the Graduate Workers of Columbia have appealed to the National Labor Relations Board for recognition. Columbia administrators have refused to recognize them, citing the NLRB's Brown University case, which holds that graduate workers are students, not workers. Columbia's grad workers are hoping the NLRB will overturn that ruling, and the AFT has filed an amicus brief in their support.
With momentum among graduate workers building, a favorable ruling is possible. And if Brown is overturned, the gate will be open for more private institutions to unionize. At the University of Chicago, which is also private, Graduate Students United, an American Association of University Professors-AFT affiliate, is still fighting for recognition.
In addition to these new affiliates at private universities, the AFT has a long relationship with graduate workers at public colleges. Its affiliates represent some of the first graduate worker unions in the country, including the Teaching Assistants' Association at the University of Wisconsin, which affiliated with the AFT in 1974, and the AFT's graduate employee unions span public universities from Florida to Oregon.
That's because the AFT considers graduate workers an essential part of the university workforce. They make up 20 percent of instructional staff, according to the U.S. Department of Education Integrated Postsecondary Education Data System, and far more at some institutions. They taught from 22 percent (University of Illinois Urbana-Champaign) to 42 percent (University of Florida) of undergraduate courses in 2004, according to AFT research. They perform work that would otherwise be performed by faculty—lesson planning, teaching, grading and holding office hours, among other things. They are paid for their work—an employee situation—and a union is the best way for them to have a voice in their own working conditions.
A union, says CGSU member Kevin Duong, "can ensure graduate workers are protected in the workplace and secured fair compensation." Benefits such as dental and vision care, financial support for child care, workplace safety and a fair sick-leave policy "can only be won when we negotiate for them collectively. For this, our union is an indispensable tool." It's also a tool to promote workplace democracy, adds Duong. In an era when higher education is threatened by privatization and corporate interests, unionizing the workplace can make a big impact.
[Virginia Myers/photo by Russ Curtis]