Health Care is a Human Right
Health Care Is a Human Right - Washington is a campaign made up of several organizations and individuals from throughout the state to stand together to create an accessible healthcare system. There are a number of resources such as fact sheets, talking points, petition, and more. You can find out more about their work at www.healthcareisarightwa.org.
---
The Alliance for Retired Americans has prepared a series of very helpful documents explaining how the 2010 health care law, approved by the Congress and signed by the President, affects retirees (seniors). See the document links below.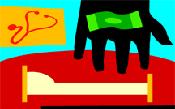 Medicare Interactive, a FREE online quick-reference tool, puts easy-to-understand answers about Medicare benefits and options right at your fingertips. Medicare Interactive features details about which services are covered by Medicare, how Medicare works with other types of insurance, what to do in the prescription drug coverage gap, and much more.
The "Medicare Interactive Counselor" is made available to members by the AFT and the AFT-affiliated New York State United Teachers. Medicare Interactive is a resource provided by the Medicare Rights Center, the largest independent source of health care information and assistance in the U.S. for people with Medicare.
To use, enter your phrase, key word, or question in the "MI Counselor."
---
The Washington State Insurance Commission has a website that explains Medicare Parts A and B, prescription drug coverage (Part D), and Medicare Advantage plans (Part C), along with a number of resources for people with disabilities. Visit https://www.insurance.wa.gov/options-people-disabilities.
---
You can get free, unbiased Medicare counseling from a Statewide Health Insurance Benefits Advisors (SHIBA) program by calling 1-800-562-6900 or by downloading their contact form at https://www.insurance.wa.gov/contact-washington-state-shiba-program. There is also a SHIBA events calendar that shows the dates, times, and locations of community sites to get in-person counseling. Some require an appointment; others are walk-in clinics.
---
Additional Resources