Share My Lesson, the fastest-growing free, digital collection of lesson plans and other support materials for educators, has gone through a best-in-class upgrade. The new site, well-known as a destination site among educators who want additional support in the classroom, makes it easier to find and manage resources, fosters collaboration and sharing, and offers more professional development content and videos, says AFT President Randi Weingarten. The AFT manages the site.
"Teachers repeatedly tell us that they want real community and real support. They don't want to feel so isolated in their own classroom or profession," Weingarten says. "The walls of schools and teachers' classrooms, thankfully, are more porous today, and Share My Lesson provides an accessible, individualized, free platform built to give them that support, in both traditional and nontraditional ways."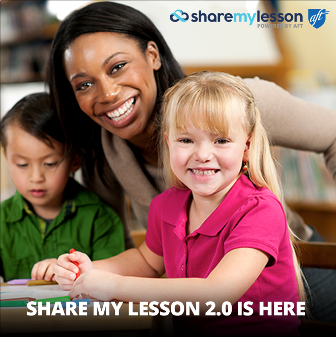 Share My Lesson is a departure from other lesson plan sites that focus either on charging for lessons or offering lessons only without additional resources. On Share My Lesson, users can, for example, create a virtual office, accessible 24-7, with their own avatar, a personal profile, a virtual file cabinet of lesson plans and other resources they have downloaded and have the ability to share any of that with others.  
The upgraded site, with its broader vision, was developed from a series of focus groups with about 1,000 teachers on how best to revamp the site to meet their needs. "Educators told us they wanted a faster and easier way to search for lessons, more dynamic and varied content, and professional development to grow their teaching skills, and that's all part of what's included in the new Share My Lesson," Weingarten says. SML originally was launched in 2012 by AFT and TES Global. AFT now owns the site.
Share My Lesson's new vision and broader content is another of the many resources the AFT provides to improve, professionalize and strengthen the teaching profession and support educators. These include the AFT's partnership with First Book (providing millions of books for disadvantaged children), the AFT Innovation Fund (providing funding to AFT affiliates for collaborative, innovative reform work), the AFT Teacher Leaders Program, Reconnecting McDowell (a public-private partnership to revitalize education and the community in impoverished McDowell County, W.Va.), the AFT's leading role in the annual Teaching and Learning conference, and a host of AFT webinars and other virtual conferences.
Thousands of educators and more than 300 content partners—such as the "PBS NewsHour," NBC Learn, MIT Blossoms, Science Friday, the National Council for the Social Studies, former Supreme Court Justice Sandra Day O'Connor's iCivics and the 21st Century Lessons initiative developed by Boston Teachers Union educators—regularly post lesson plans and resources for all to download, free of charge.
Share My Lesson users can easily search for lessons by grade, subject, topic, event or even a particular state's standards. Currently, the site has 312,000 resources and 907,000 registered users, and there have been more than 10 million downloads. The site receives about 3.2 million visits annually.
With the new upgrades and changes, the site anticipates doubling its outreach and its ability to support teachers in the next 1½ to 2 years. "This is a site with integrity and high-quality content that can be used as a community platform for all educators, everywhere," Weingarten says.
[AFT press release]